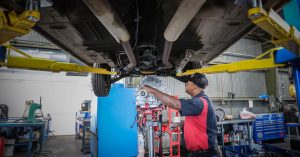 At Ralph's Transmission, we offer free initial transmission inspections. We will gladly run diagnostic tests, perform a road test and provide a thorough external transmission inspection. We also check the transmission fluid level and quality, as that is often an indicator of more serious internal transmission problems. Our goal is to help you figure out what's wrong with your transmission—or if it's a transmission issue at all.
Recently, Richard brought in his 2013 Ford F-150 into Ralph's Transmission for a free transmission inspection. He noted that his check engine light was on and his truck was having trouble getting into gear while driving.
Our transmission technicians first performed diagnostic tests on Richard's Ford truck. Several fault codes were found, including an evaporative emissions leak and a problem with the output speed sensor. A road test was also conducted, but we weren't able to repeat the conditions the customer had described. The transmission was working normally. The inspection revealed that the transmission fluid was full, but a little dark. However, it was not burnt.
After reviewing the details of the transmission inspection report with Robert, it was recommended we perform an internal inspection of the transmission pan and valve body to determine if it was actually an internal transmission problem. The customer opted to decline this further service. We also recommended he bring his truck to a general auto repair shop to look at the potential emissions issues, which might also explain the issues he was experiencing while driving.
Ultimately, Robert left our shop without having to pay anything because the initial inspection was covered. We have his inspection report and recommendations on file in case he wants to come back for further internal inspection and testing.
"They were very professional from the office to the inspection and they were upfront with the cost," Robert says in his Google review. "And they were very helpful in giving me the details on my transmission work that needed to be done."
Robert, thank you for the feedback and we're here to help if you need to bring your Ford truck back for the next phases of inspection. Otherwise, we hope you are able to get the problem(s) resolved and get your truck running right again.
For anyone in the Central Valley experiencing possible transmission problems, call Ralph's Transmission today at 209.526.1909 or schedule your service appointment online. We offer free initial inspections and testing, and we also provide free towing to our shop if you live within 30 miles.