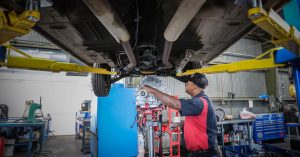 Pam drives a 2015 Ford Escape. Recently, she began experiencing problems with her transmission. It felt like it was slipping and having trouble engaging in low gear when starting from a stop. When her transmission warning light came on, she knew it was time to have her compact SUV checked out by a transmission specialist.
She reached out to Ralph's Transmission and got her vehicle towed to our Modesto shop for free. "After making a call to them, my vehicle was picked up at my home within 30 minutes and diagnosed not long after," she says. 
Our transmission technicians ran diagnostic tests and performed an external inspection of the transmission, which is a preliminary inspection done without pulling the transmission from the vehicle. The diagnostics revealed multiple fault codes and the inspection showed the transmission fluid was very discolored. This is a common sign of internal transmission damage. We recommended a full internal inspection to Pam, where we would remove the transmission from the vehicle, open it up and carefully test/inspect all the vital components inside.
At the time, Pam decided not to go through with the internal inspection. However, she reached out to us again just a couple weeks later and was ready for us to take the next steps. It was a good thing she did because the internal inspection revealed quite a bit of significant transmission damage. The torque converter was failing, the solenoid body was very worn, several valves were weak, the case was broken and the clutches were burnt.
Our recommendation was for a full custom transmission rebuild. In this process, we remove every single component from the transmission. Good parts are properly cleaned and reinstalled while any bad components are replaced with new ones. The transmission is rebuilt completely, reinstalled in the vehicle and then road tested to ensure that everything is working correctly. All transmission rebuilds performed at Ralph's Transmission are backed by our industry-leading 3 Year, 100,000 Mile Warranty to give our customers extra peace of mind when they leave our shop.
"Their customer service is top notch," Pat says. "I highly recommend them."
If you are worried about your transmission, call the Central Valley's leading transmission experts at Ralph's Transmission for a free inspection and professional diagnosis. We also offer free towing within a 30-mile radius! Call us today at 209.526.1909 or schedule your appointment online.