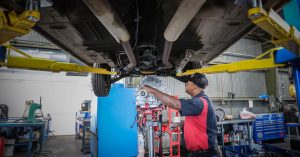 Sergio was experiencing transmission problems in his 2012 Chrysler 300. He had his engine and transmission replaced about a year ago at another shop, but recently started noticing some shifting problems in low gears. The vehicle would sometimes have trouble shifting out of park, and then would feel very sluggish once in first gear. Sergio turned to Ralph's Transmission for an expert diagnosis and transmission repairs.
Diagnostic testing revealed several fault codes. An inspection of the transmission also showed that there was a significant transmission fluid leak at the quick fittings. The fluid level was dangerously low and the engine was also leaking oil. A road test confirmed Sergio's shifting issues, that were happening in all forward gears. The damaged fittings had to be replaced and fresh transmission fluid needed to be added to the transmission system.
Once the work was complete, the diagnostic codes were reset and the vehicle was road tested to confirm everything was working properly. We were able to get Sergio and his car safely back on the road. The work was backed by an excellent warranty, so he can feel comfortable returning to us if any more problems occur.
"Impeccable service," Sergio says in his recent Google review. "Highly professional, friendly, knowledgeable and honest. I wouldn't go anywhere else for transmission issues. Great warranty too!"
Thank you, Sergio, for putting your trust in the Ralph's Transmission team. We're always here to help whenever you need transmission maintenance or repairs.
For all your Central Valley transmission care services, call Ralph's Transmission today at 209.526.1909 or schedule your service appointment online.