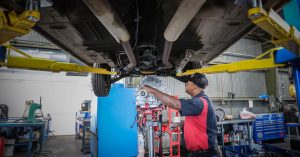 Customers are almost always a little apprehensive about visiting any automotive shop for the first time. It's usually because they don't know what kind of process to expect. At Ralph's Transmission, we have nothing to hide. We'll gladly walk you through our process and let you know exactly what to expect throughout your entire experience. Here is a step-by-step guide:
1. First Contact
Whether you call ahead, book an appointment online or simply stop by our downtown Modesto shop on 9th Street, our customer service team is ready to help you. We offer free towing within a 30-mile radius, as well. We can answer any questions you have upfront. We will also have a few questions to ask you about your vehicle. The more information we can gather upfront about the transmission problems you are experiencing, the better we can serve you.
2. Road Test
Once the vehicle is in our shop, one of our transmission technicians will take it out for a brief road test (if the vehicle is drivable). This can often tell us a lot about what's wrong, especially if we are able to replicate the transmission problems you are describing. Our technicians are very skilled at figuring out the most likely issues from a brief road test.
3. Diagnostics
Next, we'll hook up your car's computer to our advanced diagnostic testing equipment. In many cases, it will reveal specific fault codes that will help us further narrow down the specific problems that need to be inspected and addressed.
4. External Inspection
The road test, diagnostics and initial external inspection process are all free at Ralph's Transmission. We perform a thorough external inspection of the transmission system. By "external," this simply means that the inspection is performed without removing the transmission from the vehicle. We'll check for fluid leaks, test the fluid level and quality, inspect the transmission pan gasket, pan and filter, and look over key mechanical components to see if there are any areas of concern. There are many situations where you simply need a standard transmission maintenance service to replace the fluid, filter and pan gasket. In other more severe cases, further internal inspection may be required.
5. Initial Inspection Report
After the external inspection, road test and diagnostic tests, a service advisor will present you with our findings. We'll let you know any issues we found and our next recommendations. If minor repairs or maintenance services are all that's needed, we'll give you specific price estimates for any parts and labor (and you can skip to step 8 below). If a full internal inspection is required, we will walk you through that process in steps 6 and 7.
6. Internal Inspection (if necessary)
An external inspection can only reveal so much, especially if there is significant internal damage within the transmission. If it seems like the problem is more serious, we will recommend an "internal" transmission inspection. This requires our technicians to pull the transmission from the vehicle and dismantle the housing so they can get inside and fully inspect all the key components. This is the only way to truly to reveal the source of any major internal transmission damage.
7. Internal Inspection Report
After a full internal inspection is completed, we will provide you with an even more detailed report. We will outline any components that are damaged and make our final repair recommendations. Sometimes, one or two parts may just need to be replaced. In other cases, a full custom transmission rebuild may be the best solution. This is is a specialty service we provide at Ralph's Transmission where we completely rebuild the transmission. All damaged/worn parts are replaced. All healthy parts are professionally cleaned and reinstalled. The end result is a transmission that is running like new again and backed by our industry-leading 3 Year, 100,000 Mile Warranty. In some severe cases where a transmission is beyond repair, we may recommend completely replacing the transmission with a new or refurbished unit.
8. Repairs
Once you've had a chance to review the inspection report(s) and you have authorized us to proceed with any repair services, our expert transmission technicians will do what they do best. We'll make the necessary repairs and make sure the work is done right. Almost all parts and services will be backed by warranties, with the 3 Year, 100,000 Mile Warranty available for full transmission rebuilds.
9. Final Road Test
Once the transmission repairs have been made and the transmission is reinstalled back in the vehicle (if it had to be removed for inspection/repairs), we will perform a final road test to make sure everything is running right.
10. Getting You Back on the Road
After all the services are complete, we'll get you back safely on the road as soon as possible. We'll walk you through any warranties that apply and we'll be happy to answer any final questions you have. Our service team is always here to help, so don't hesitate to call us if anything comes up after you have left our shop.
This is the Ralph's Transmission service process. If you have questions or would like to schedule an appointment for your free initial transmission inspection, call us today at 209.526.1909 or book your appointment online.