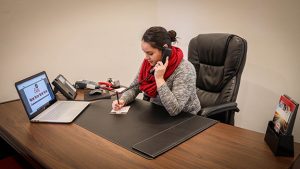 Brian drives a 2007 Chevrolet Express 3500, which is a 29-foot Class C motorhome. He was planning a trip just a couple weeks away and needed to get his transmission fixed. He knew it was slowly dying and needed some serious repairs to be ready for a long drive.
"After dealing with at least 6 shops—most not answering the phone or returning voicemails—I made an appointment with one shop," Brian says in his Google review. "I dropped it off, only to be called and told they can't work on it. I called Ralph's and Erika [Alcazar, Service Advisor] immediately answered the phone. I explained my situation and drove the unit to Ralph's shop, since the other shop would not work on it. Erika was very pleasant and confirmed they could work on the unit. I have an extended warranty that requires steps to follow. Erika said not an issue. Erika made all the phone calls to the warranty company and got all of the authorizations."
At Ralph's Transmission, our shop facility has heavy duty lifts to work on larger trucks and some RVs. We had no problems getting Brian's Chevy motorhome in for a complete transmission inspection and diagnostic testing. The diagnostics revealed several fault codes and the road test confirmed the transmission was shifting roughly in lower gears. Further internal inspection revealed the torque converter clutch was slipping and there were a number of other components that were severely damaged.
A full custom transmission rebuild was recommended. We ordered the necessary replacement parts for the RV transmission and completely rebuilt the transmission. All damaged or worn parts were replaced. All salvageable components were professionally cleaned and reinstalled. The final road test was conducted to ensure the transmission was running like new again and would be backed by our 3 Year, 100,000 Mile Warranty on all rebuilt transmissions.
"My unit was rebuilt with HD parts and ready to go in 5 days, which is good considering there is almost 24 hours of labor for R&R and rebuild," Brian adds. "I told Erika it was like driving a different motorhome. I only write reviews for exceptional service or very poor service."
Thank you, Brian, for putting your trust in Ralph's Transmission when other shops weren't able to work on your vehicle. We'll be here to help if you ever need us again.
For anyone in the Central Valley needing transmission service or repairs for their car, truck, SUV, work vehicle or RV, call Ralph's Transmission today at 209.526.1909 or schedule your service appointment online.