Veronica first came to Ralph's Transmission in 2017 when her Mercury Mountaineer was having transmission trouble. We ended up rebuilding the transmission and backing it with our 3 Year, 100,000 Mile Warranty. Click here to read the details of her original story.
Fast forward to more than three-and-a-half years later and Veronica noticed that something wasn't right. Her OD light (overdrive) was flashing, which typically indicates a transmission problem as the vehicle isn't able to properly shift into certain gears. Of course, she realized the timing was awful after her warranty had already expired earlier this year. Still, she was so happy with her service at Ralph's Transmission the first time around that she reached out to us once again to help with these new transmission problems.
A transmission inspection revealed that both the rear main engine seal and front transmission seal were leaking and there was some internal damage to the torque converter, some internal clutch seals and a number of other key components. The transmission had to be disassembled and rebuilt once again after the failing parts had been replaced.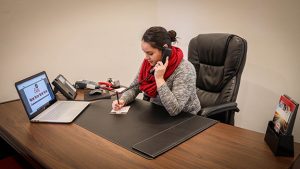 "Erika [Alcazar, Service Advisor] called me to tell me that Mario [Jauregui, Owner] said they were going to fix my problems for FREE," Veronica writes in her recent Google review. "Things like this don't happen to me. They were very informative, kept me up to date on everything and were very nice. Erika is the best!!"
We won't disagree with you about Erika. We're so proud to have her as a key member of our service team. As for Veronica's transmission, it sure was unfortunate timing to have problems after the warranty had expired. At Ralph's Transmission, customer satisfaction is always our number one priority. If you've ever had work done at our shop—especially a full custom transmission rebuild—you can rest assured knowing that we stand behind our work. Even if the warranty has passed recently, please give us a call and we will work something out for you.
Veronica's transmission repairs were taken care of as if the vehicle was still under warranty. We were happy to honor that. She did also agree to have us replace the rear main engine seal, which was another serious problem that needed to be addressed.
"They let me know other things I needed done with some seals," Veronica adds. "I gladly paid them for those services. I highly recommend Ralph's. 3 years ago was my first run there and nothing has changed. Mario, you have an awesome team and exceptional service. I will always be back no matter the cost. Please thank your team for their services. The most honest awesome people around!! Thank you!"
Thank you, Veronica, for putting your trust in Ralph's Transmission the first time around and for turning to us once again with these latest transmission issues. We appreciate your business and the fact you took the time to post such wonderful customer reviews.
If you are in the Central Valley area and are in need of transmission repairs, call Ralph's Transmission today at 209.526.1909 or schedule your service appointment online.