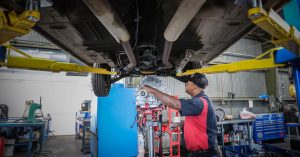 Garold was worried about his 2015 Chevy Silverado. The transmission was slipping badly and the truck felt like it was "chugging" awkwardly whenever he was at a stop or driving at a slow speed. He definitely knew something was wrong with the transmission, so he contacted Ralph's Transmission in Modesto for a professional inspection and advice.
"I called on a Sunday, to make an appointment," Garold says. "They answered and had my truck in that day."
Ralph's Transmission isn't open on weekends, but you can always contact us and we'll answer. We are happy to make special arrangements for vehicle drop-offs and pick-ups after hours, especially right now with extra social distancing precautions in place due to COVID-19. Just let us know how we can help and we'll do our best to make sure you are taken care of.
After a road test, free external transmission inspection and diagnostic testing, the technicians at Ralph's Transmission found a few concerns with Garold's Chevrolet transmission. The diagnostics revealed multiple fault codes. They also noted that the transmission fluid was very discolored and had a burnt smell. That is usually a sign of transmission issues, whether the vehicle just needs a standard transmission service or if there is more significant internal damage. In this situation, we almost always recommend a more in-depth internal inspection where the transmission is removed and dismantled to uncover any damage to internal components.
However, we also took the time to look up Garold's existing warranty situation with Chevy. It turns out he still had a little time left on his original manufacturer warranty, so it didn't make sense for us to pull the tranny or diagnose any internal damage when his vehicle was still covered. We are committed to doing what's right for our customers, even if that means referring them elsewhere. We made sure Garold knew about his warranty and recommended he take the truck to his dealership while it was still covered.
"The next day they called and told me that my truck had 15 days left on warranty," Garold adds. "I took it to the dealership. By Ralph's employee integrity, I saved $3,000 because they checked. I cannot say if another business would have done the same. Thank you."
You are welcome, Garold. We are glad we were able to save you some headaches and some money on the transmission repairs that your Chevy required. We're always here to help if you need our advice any time in the future.
For all your Central Valley transmission inspection, maintenance and repair needs, call Ralph's Transmission today at 209.526.1909 or schedule your appointment online.