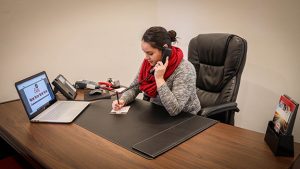 Elisia drives a 2017 Nissan Rogue. She recently began experiencing problems with her SUV. Sometimes, it wouldn't move at all and the RPMs would suddenly go up over 4,000 when she was trying to accelerate. She also noted that the vehicle generally felt sluggish when taking off from stops. Elisia assumed she had a transmission problem, so she brought her Rogue into Ralph's Transmission for a professional inspection and diagnosis.
"This is an awesome shop," writes Elisia in her Google review. "They kept me updated every step of the process and stayed on top of my claim with the warranty company. I worked with Erika [Alcazar, Service Advisor] the whole process and she is awesome."
Diagnostic testing of Elisia's SUV revealed several significant fault codes and a road test confirms the shifting and acceleration issues she was describing. The Ralph's Transmission technicians pulled the transmission from the vehicle for a thorough internal inspection. Unfortunately, the internal damage to her continuously variable transmission (CVT) was beyond repair. It had to be exchanged for a new CVT and Erika worked with her warranty company to cover as much as possible. The rear main engine seal was very worn and needed to be replaced, as well.
The new CVT assembly and all necessary replacement parts were ordered as quickly as possible. Then, our team was able to reinstall the new transmission and components to make sure everything was working properly again. Final road testing confirmed it was running like a champ and ready for Elisia to get back on the road.
"I hope I never have transmission problems again, but if I do this is where I will be taking my car again," adds Elisia.
Whatever type of vehicle and transmission you have, Ralph's Transmission is here to help. We are the Central Valley's premier transmission specialists and we can provide any maintenance or repair services you need. Call our Modesto shop today at 209.526.1909 or schedule your service appointment online.