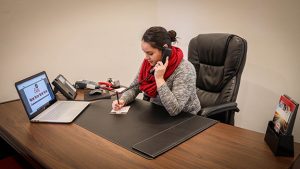 Maria drives a 2014 Nissan Altima and knew that it was due for a transmission service. She called Ralph's Transmission in Modesto and spoke with Erika Alcazar, who is our lead Service Advisor. She scheduled an appointment to bring her car into the shop, and by the end of the process she was very happy with the level of customer service she received.
"I went here to get my transmission serviced," Maria writes in a recent Google review. "They are very professional. I was quoted by Erika in a couple hours. When I called to schedule an appointment she remembered everything."
Any vehicle that is brought to the Ralph's Transmission shop receives free diagnostic testing and a complete external transmission inspection by our expert transmission technicians. Even though Maria was just in for a standard transmission service to replace the transmission fluid and filter, change out the pan gasket and clean the transmission pan, our team always goes the extra mile to look over the entire transmission to make sure there are no other issues the customer needs to be concerned about.
Diagnostic tests revealed no fault codes and there were no other problems found during the external inspection of the transmission. Clearly, Maria is a car owner who takes proper care of her vehicle, and getting the transmission serviced is a great maintenance step to take when it's due. It was a very healthy transmission that only required the basic transmission maintenance services she came in for. Our team was able to get her Altima in and out the same day, so she could get safely back on the road in her daily driver.
"They fixed my car the same day and they waited for me to pick it up," Maria adds. "The crew seems amazing. Everybody that I saw and spoke to me in a kind and a professional matter. Erika was the best."
We have to agree that Erika is the best! Thank you, Maria, for sharing your feedback and posting such a thoughtful review of Ralph's Transmission. We're glad that everything went smoothly with your Nissan transmission maintenance.
If you are in the Central Valley and are in need of transmission maintenance or repair services, call Ralph's Transmission today at 209.526.1909 or schedule your service appointment online.