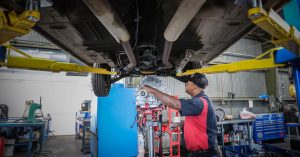 A Google reviewer going by the handle of O.G. recently visited Ralph's Transmission to have his transmission rebuilt on his GMC pickup truck. Here is what he had to say:
"Erika [Alcazar] calmly walked me through their process," O.G. writes. "Knowing that they would charge nothing after the initial inspection and test drive helped me make my decision to move forward with them."
It's true that we won't charge you anything for the initial transmission inspection, diagnostic tests and road test. Our priority is to figure out what's wrong with your vehicle's transmission—if anything. Then, we can let you know our recommended maintenance or repair services. We will provide each customer with a detailed inspection report and accurate price estimates for parts and labor. That way, you can fully understand what is going on and make an informed decision. We won't make any repairs without your authorization, and you always have the option to take your vehicle elsewhere for a second opinion.
O.G. had already reached out to several other general auto and transmission repair shops in the Central Valley area and got a few basic quotes. He knew his GMC transmission needed major repairs and probably should be rebuilt or replaced. O.G. knew Ralph's Transmission had a strong local reputation as a leading transmission rebuild specialist, so he felt most confident in turning to our team for an expert diagnosis and repairs.
"Many shops quoted similar prices and I felt more comfortable taking my GMC pickup to them," O.G. adds. "Good as new within 2 days and covered with 3 year, 100,000 mile warranty."
All transmission rebuilds performed at Ralph's Transmission are backed by our industry-leading 3 Year, 100,000 Mile Warranty to provide you with a little extra peace of mind. We stand behind our work!
If you are experiencing transmission problems and want to get a free transmission inspection report, call Ralph's Transmission today at 209.526.1909 or schedule your service appointment online.