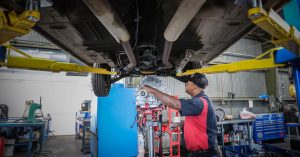 Paul & Monica drive a 2010 GMC Yukon XL. They noticed that the transmission seemed to be slipping when in lower gears and when taking off from a stop. They were also worried they might have a fluid leak after recently getting their transmission cooler lines repaired. They brought their SUV into the transmission specialists at Ralph's Transmission for a professional diagnosis and repairs.
The Ralph's Transmission team performed a complete external inspection of the transmission system, while also performing a road test and running diagnostics. The diagnostic tests revealed no significant fault codes and the road test confirmed the same gear slipping issues that the customer was experiencing. The inspection revealed that the transmission fluid was burnt and there was indeed a fluid leak at the rear main engine seal. With these issues being concerning enough, the next step was to remove the transmission from the vehicle in order to perform a more thorough internal inspection.
Our technicians opened the transmission housing to reveal some serious internal damage. The main issue was a failing torque converter, which is a fairly common problem and would explain the slipping gears and burnt transmission fluid. We recommended a full custom rebuild of the Yukon's transmission. The torque converter and other damaged internal components were replaced, while the rest of the healthy parts were cleaned and reinstalled. The transmission was rebuilt and reinstalled in the vehicle before a final road test was performed to confirm everything was running like new again.
In addition to the transmission rebuild backed by our 3 Year, 100,000 Mile Warranty, Ralph's Transmission replaced the rear main engine seal and flushed the transmission cooler lines to make sure there were no further leaking issues in Paul & Monica's Yukon.
"We had an awesome experience at Ralph's Transmission!" wrote Paul & Monica in their Google review. "The mechanics were quick with the repairs and the ladies at the front desk were very helpful and informative. Would definitely recommend them and we will certainly be continuing customers."
Thank you for the kind words, Paul & Monica. We'll be here to help anytime you need us, and don't forget you have the warranty if you ever experience any further transmission issues.
If you need transmission help in the Central Valley, call Ralph's Transmission today at 209.526.1909 or schedule your service appointment online.