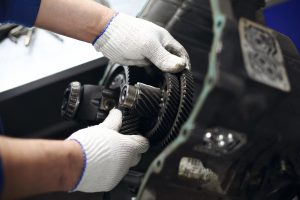 Oscar drives a 2014 GMC Sierra and was experiencing some transmission problems with his truck. It seemed to be overheating and was shifting roughly in low gears—sometimes slipping out of gear completely while driving. Oscar decided to bring his GMC truck into Ralph's Transmission for a professional inspection and repairs.
The transmission did have a serious fluid leak at the transmission cooler lines, and the fluid itself was dark and burnt. The rear main engine seal also had a leak. The road test confirmed the shifting issues that Oscar had described. Our technicians removed the transmission from the vehicle for a full internal inspection. The primary problem was a failed torque converter. Then, there was also damage to several valves, the pump stator and various other parts.
The recommendation was to replace all damaged and worn parts with a full custom transmission rebuild backed by our 3 Year, 100,000 Mile Warranty. In addition, the rear main engine seal and several other drivetrain seals needed to be replaced, and the transmission cooler lines were flushed to remove any contaminants in the fluid lines.
Here is what Oscar had to say in his Google review:
"Excelente servicio el personal muy amable y me resolvieron mi problema con la transmisión definitivamente lo recomiendo."
Here is the English translation:
"Excellent service, very friendly staff and they solved my problem with the transmission. I definitely recommend them."
It is important to note that we offer bilingual customer service at Ralph's Transmission. Whether you speak English or español, our team is ready to help you with all your transmission repair and maintenance needs.
Call Ralph's Transmission today at 209.526.1909 or schedule your service appointment online.