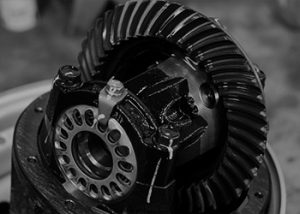 Raymond drives a 2007 Dodge Ram 2500. He had an after-market lift kit installed, but ultimately starting having some shifting problems in his truck. Once he would get up to 45-55 MPH, he was hearing a strange humming noise and the gears would sometimes slip. Raymond was worried he had a transmission issue, so he contacted the Central Valley transmission specialists at Ralph's Transmission for a professional inspection.
Raymond had been to Ralph's Transmission before to fix a minor transmission fluid leak, so he knew he could count on our team for honest advice and quality service. It turned out that his rear differential was the problem and the cause was general wear and tear with an older heavy duty truck. We were able to rebuild the rear differential and perform some other minor repairs to get Raymond back on the road.
A few days later, Raymond started noticing a grinding sound—again only when he was driving at higher speeds. The truck was shifting smoother, but something still wasn't quite right. He brought his Ram back to Ralph's Transmission for a second look. This time, our team noticed that there was some damage to the front drive line. Unfortunately, the original drive line was not long enough for the lift kit that was installed. We were able to install a new front drive line at the proper length for the lifted truck.
"Amazing professional, no BS." Raymond says. "I will always go here when needed and would recommend. I have both times dealt with Erika [Alcazar, Service Advisor] at the front desk and she is so welcoming and concerned. To her, it's not just business. She builds a relationship, is truly concerned and takes detail to the T."
Raymond, thank you for your review and thank you for your patience as we addressed the multiple drivetrain issues with your Dodge Ram.
For anyone in the Modesto area in need of transmission or drivetrain repair, call Ralph's Transmission today at 209.526.1909 or schedule your service appointment online.