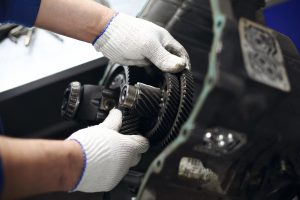 Terry brought his 2008 Dodge Grand Caravan to Ralph's Transmission because the transmission was giving him problems. The check engine light was on and the transmission would make a loud whining sound whenever he tried to engage the vehicle in forward or reverse.
The service team at Ralph's Transmission arranged for free towing to get Terry's Dodge to our shop in Modesto, where our technicians were able to thoroughly inspect the vehicle. Diagnostic testing revealed several concerning fault codes and an attempted road test confirmed the whining sound Terry described, along with an inability to shift into forward or reverse gears. The transmission was removed from the Grand Caravan for a full internal inspection.
The main problem discovered was a blowout of the overdrive snap ring, which caused all sorts of internal transmission damage. Many components were damaged beyond repair, including the torque converter, solenoids, speed sensors and input clutch. Additional inspections also revealed other drivetrain problems such as a worn rear main engine seal, along with damage to the front axle and engine and transmission mounts. A lot of work needed to be done, highlighted by a full custom rebuild of the transmission system.
"I brought my car in for a blown transmission, and additional repairs that were needed were found during the initial inspection/ diagnosis," Terry writes in his Google review. "From the initial call, free tow to the shop and through the entire repair, Erika [Alcazar], my contact at the shop kept me informed and updated!!!"
There were many repairs to take care of, so we arranged a rental car for Terry. After the initial rebuild was complete and Terry was back on the road, he experienced further problems. The vehicle was towed back to our shop, where it was discovered that some metallic particles had cause the dragging switch valve to fail. The repairs were covered by our 3 Year, 100,000 Mile Warranty, so we took care of these issues. Terry ended up having to come back again when an aftermarket flexplate that was previously installed also failed.
Ultimately, this was a very complex process with an older vehicle that had many problems. In the end, however, we were able to get Terry and his Grand Caravan back on the road and running right.
"The repairs took a little longer than estimated, but Erica arranged for a rental car (with a great discount) and great customer service!!!" Terry adds. "Thank you!!!"
Thank you, Terry, for your patience and for trusting Ralph's Transmission with all your transmission and drivetrain repairs.
If you need transmission services in the Central Valley, call Ralph's Transmission today at 209.526.1909 or schedule your service appointment online.