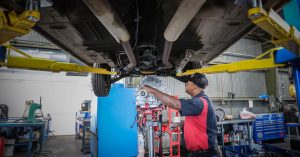 Trevor recently bought a 2008 Chrysler Town & Country with over 100,000 miles on it. One of the first things he did was service the transmission on his own. After driving it awhile, Trevor began noticing some odd transmission issues. Sometimes, it would shift hard when the vehicle was cold, especially between 3rd and 4th gears. He was concerned about the transmission, so he brought it into Ralph's Transmission for a free inspection and diagnosis.
"I had a check of my vehicle's transmission done at Ralph's Transmission," Trevor says in his Google review. "It is a relatively new-to-me vehicle that has a few quirks that I wanted to get checked out."
The transmission technicians at Ralph's Transmission put the vehicle through all our standard tests. Diagnostics revealed no fault codes. An external inspection showed the transmission looked healthy, while the transmission fluid was full and clean. During the road test, we were unable to replicate any of the "quirks" that Trevor described. After talking with the customer further, it seemed the issues were intermittent and inconsistent.
This can sometimes happen with a vehicle of this age and with this many miles on it. However, it doesn't necessarily mean there are significant transmission issues that require major repairs. Our recommendation was for Trevor to wait and see if the problems got any worse, and to bring his vehicle in again if that should happen. If not, there shouldn't be anything for him to worry about anytime soon.
"Luckily for me the quirks are normal operations for this transmission," Trevor adds. "I love their honesty and the fact they didn't recommend a lot of work that wasn't currently needed. They may not have gotten much money from me today, in fact none, but their honesty has gotten them a future customer for life!"
We are always going to offer our honest advice at Ralph's Transmission. Our goal is to provide our customers with information and education, so they can make informed decisions about transmission repairs or maintenance. If Trevor does experience further problems, then he knows he can come back to us for a full internal inspection and further testing.
If you are in the Central Valley and think you might have transmission issues, call Ralph's Transmission today at 209.526.1909 to schedule a free inspection. We'll be happy to look over your vehicle and put it through the tests to determine if there are concerns that warrant further inspection. You can also book your inspection appointment online.