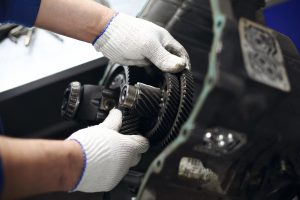 David drives a 2002 Chevy Silverado 1500 with almost 300,000 miles on it. He recently began experiencing some transmission issues. The truck wasn't shifting into reverse and was struggling to get into higher gears while driving. David knew something was wrong with his transmission, so he turned to the Central Valley transmission specialists at Ralph's Transmission in Modesto.
"All I can say is WOW," David says. "First off, customer service is amazing."
When we got David's truck into the shop, our transmission technicians ran diagnostic tests and performed an external inspection. The diagnostic tests showed no clear issues. The transmission fluid was full, but discolored. This is a common sign of internal damage. An attempted road test confirmed the truck would not go into reverse gear and just didn't feel or sound right in forward gears. The transmission needed to be pulled from the vehicle for a complete internal inspection.
Further inspection revealed that the sun shell had failed and caused a series of damaged internal components, such as the torque converter, shift solenoids, manifold pressure switch, low roller clutch, forward accumulator piston and more. Our best recommendation was for a full custom transmission rebuild. Our technicians dismantled the entire transmission. Any parts still in good shape were cleaned and reinstalled. Any damaged or worn components were replaced with new ones. The transmission was reinstalled back into the Chevy truck and the final road test confirmed it was running like new again. All this work is done in-house by Ralph's Transmission rebuild specialists and backed by our industry-leading 3 Year, 100,000 Mile Warranty program.
"They called me every day to give me an update," David adds. "My Truck was in the shop 3 days a total for a transmission rebuild. These guys don't mess around. Great service and quality work. I highly recommend Ralph's Transmission."
Thank you, David, for putting your trust in the Ralph's Transmission team. Remember your warranty in case you ever experience any more issues.
Call Ralph's Transmission today at 209.526.1909 for all your transmission maintenance and repair needs. Or, you can also book your service appointment online.