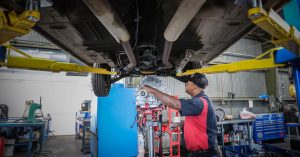 Brett drives a 2004 Chevrolet Silverado 2500HD. He recently began experiencing transmission problems in his truck. He would have a hard time getting it to shift into forward or reverse when the vehicle was cold. Once it warmed up, it would work fine. Brett decided to bring his Chevy truck into Ralph's Transmission for a free transmission inspection.
Diagnostic tests revealed no fault codes. During the initial external inspection, the transmission fluid was checked. The fluid level was full, but the fluid itself was somewhat discolored. This can be a sign of internal damage or just that the transmission is overdue for standard servicing. During road tests, our technicians were unable to replicate the cold shifting issues the customer was describing. The transmission was running normally. The truck had less than 100,000 miles on it, so it likely wasn't a major problem. Still, we held onto the vehicle over the weekend just to be extra thorough with multiple road tests when the engine and transmission were completely cooled down.
Our recommendation was to perform a transmission pan inspection. If the pan was clean (as in no water, debris, metal shavings or other signs of internal damage), then a standard transmission service would be all that was necessary. Thankfully for Brett, the pan was relatively clean. We were able to replace the transmission fluid, transmission filter and pan gasket. After the service, one of our technicians performed a final road test to confirm that the transmission was working properly at cold and hot temperatures.
Throughout the process, our service advisors kept Brett up to date and informed with everything that was happening in our shop. When he found out that only a standard transmission service was needed, he was very relieved.
"What a nice change of pace to have people who care, are friendly, and really want your business," Brett says. "I would highly recommend this company and love to see smiling, friendly faces. Great job!"
Whether you need minor maintenance or major transmission repairs, Ralph's Transmission is your Central Valley transmission expert. Call us today at 209.526.1909 or schedule your service appointment online.