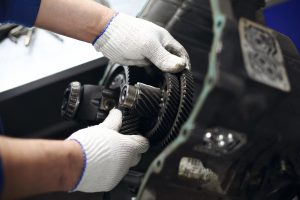 Frank brought his 2016 Chevy Malibu into Ralph's Transmission recently because he was experiencing some transmission issues with his car. The vehicle would sputter when shifting at low speeds and the RPM gauge was fluctuating abnormally when driving. Frank also noticed there was a fluid leak under the car, so he wanted to get a professional transmission inspection from a Central Valley specialist.
The technicians at Ralph's Transmission performed a free external inspection of the transmission and ran diagnostic tests. The diagnostics revealed no fault codes, but the road test confirmed the same shifting and revving issues the customer had described. The transmission fluid leak was another cause for concern as it appeared it might be a cracked transmission cooler line. Upon that first visit, a full internal inspection was recommended. This involves removing the transmission from the vehicle, so it can be opened up and full inspected internally to better determine the source of the problems. Frank declined this secondary inspection at the time. However, he returned about a week later to get it done.
Further inspection revealed the main problem to be a failing torque converter. This is one of the most common sources of transmission issues in automatic vehicles. A number of other key internal components were damaged, as well, including the case bushing, 3-5 steel cushion, 4-5-6 drum and output speed sensor. The cooler line was not cracked, but needed to be professionally flushed to clear out some contaminants that had built up in the lines. In addition, the rear main engine seal and other gaskets needed to be replaced to address the transmission fluid leaks.
A full custom transmission rebuild was recommended to replace all the worn and damaged parts. The original Chevrolet transmission was rebuilt, reinstalled and tested to make sure everything was running right once the car back on the road. Every transmission rebuild we perform at Ralph's Transmission is backed by our industry-leading 3 Year, 100,000 Mile Warranty to provide customers like Frank with added peace of mind.
"I have to honestly say I have never been to a more professional and helpful shop like this," Frank says in his online review. "If you have transmission problems and you take your car anywhere else, then you have more problems than just your transmission, bud."
Thanks for the feedback, Frank. We're always here to help if you ever have any more transmission problems and need to get warrantied repairs.
For anyone in the Central Valley experiencing transmission problems, call Ralph's Transmission today at 209.526.1909 or schedule your transmission inspection online.