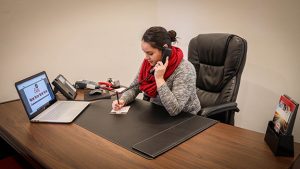 Cindy owns a 2017 Dodge Ram Promaster 3500 touring coach RV that she lives in full time and travels around the country. She was in Modesto to help take care of a loved one, and she needed some work done on her vehicle.
Cindy first visited a local dealership to get a headlight replaced and to get a quote for her 60,000-mile transmission service. She wasn't impressed with the service there and thought the price for the transmission maintenance was way too high. After doing some research and calling around, she decided to take her RV to Ralph's Transmission.
"Ralph's Transmission and the whole team is beyond amazing!" Cindy writes in her recent Google review. "They could see that I had a very full plate, and worked at getting my transmission serviced. They had me back on the road before noon! That sure took a load off my back! Literally! As I had to put my cat in a backpack carrier! He was not a happy camper!"
We have a large service facility equipped with heavy duty lifts to handle larger trucks, work vehicles and recreational vehicles like Cindy's Promaster. Our technicians were able to get her RV's transmission serviced quickly and professionally.
"Erika [Alcazar, Service Advisor] who took my initial phone call did all of the paperwork and checking ahead of time to make sure that they had everything my vehicle would need when it was there," Cindy adds. "She was so efficient, competent and engaging through the whole process! A complete pleasure to work with. That really makes the whole experience top-notch! The type of team and ethics a business has really does matter to me! Thank you to everyone at Ralphs Transmission!"
Thank you, Cindy, for putting your faith in Ralph's Transmission and for writing such a wonderful review.
If you are in the Central Valley and are in need of transmission maintenance or repairs, call Ralph's Transmission today at 209.526.1909 or schedule your service appointment online.