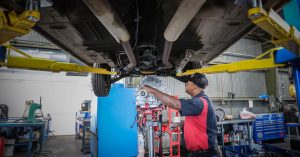 Nolan was concerned when his 2012 Toyota Tundra began feeling like the wheels were locking up at times. Then, he noticed a fluid leak toward the rear of his truck. Something wasn't right, and he knew he needed to take his Tundra to a Central Valley transmission and drivetrain specialist to properly diagnose and repair the problem. After doing some research, Nolan decided to visit Ralph's Transmission in Modesto.
We towed his truck (for free) from Oakdale and got it into our transmission shop for a thorough inspection. It was quickly determined that the primary issue was not with the transmission, but rather with the rear differential that controls the power distribution to the rear wheels of the truck. In fact, the Ralph's Transmission technicians discovered there was a hole in the rear differential housing. That explained the fluid leak and is a clear sign that the unit was failing.
Ultimately, the rear differential assembly had to be replace and the rear differential was rebuilt by the Ralph's Transmission team before being reinstalled in the vehicle. It was road-tested to ensure everything was working properly.
"Thank you Ralph's for doing an excellent job," Nolan says. "My truck drives amazing, and you guys went over and above on customer service. Helping me deal with a PITA warranty company made all the difference."
During the inspection, it was noted that the transmission fluid was a bit discolored and there were some other minor issues that we pointed out to Nolan in our inspection report. He decided not to have everything done at this time, so he just had us do the rear differential replacement for now. The point is that even if you don't use Ralph's Transmission for every recommended repair, we will always give you the details and advice you need to make your own informed decisions as a vehicle owner.
"If you want quality work, you call Ralph's!" Nolan adds.
Thank you, Nolan, for trusting your Toyota Tundra with Ralph's Transmission. We're glad everything worked out with your rear differential repairs and we're here to help for any other transmission/drivetrain maintenance or repairs you ever need down the road.
For anyone in the Central Valley area in need of transmission or drivetrain service, call Ralph's Transmission today at 209.526.1909 or schedule your shop appointment online.