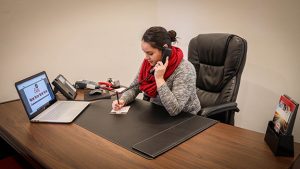 Skip's 2009 Toyota Camry has over 140,000 miles on it and the transmission recently gave out. His check engine light had come on and the vehicle was shuddering every time he would accelerate. Skip knew he needed a Central Valley transmission specialist, so he went online to do his research.
"I Googled 'transmission repair' in my area," Skip says in his recent Google review. "I read a few posts before I discovered Ralph's Transmission on 9th St. in Modesto. After reading several ratings, I discovered that not only was Ralph's conveniently located but they have been in business for 50 years. I then called to set up an appointment and reached a very courteous and helpful young lady named Erika [Alcazar]."
After discussing the transmission problems he was having and explaining our process, Skip decided to bring his Camry down to Ralph's Transmission for a proper transmission inspection. The initial external inspection, diagnostics and road test revealed there were indeed some significant problems that required a more in-depth internal inspection. Our transmission technicians pulled the transmission and found multiple damaged components, including the valve body, overdrive, direct clutch and 2nd brake clutch. When there is this much internal damage, the best recommendation will typically be a full custom transmission rebuild.
Our transmission rebuild specialists go through every single nut and bolt of the transmission. Bad parts are replaced. Good components are thoroughly cleaned and reinstalled. In the end, the transmission will be running like new again. That is why we back all in-house transmission rebuilds with the Ralph's Transmission 3 Year, 100,000 Mile Warranty.
"We agreed that the transmission needed to be rebuilt and a ballpark figure of what it would cost," Skip adds. "I dropped off the car that day and when I arrived she immediately called a Lyft driver to return me to my home at their expense. During the whole process, she kept me informed of every step of the rebuild. I picked up the car yesterday and WOW! It's driving like a brand new car with 140,000 miles on it."
Our goal at Ralph's Transmission is always complete customer satisfaction. Skip's review speaks to this commitment to quality.
"I am very pleased with the work and would strongly recommend Ralph's to anybody and everybody," Skip concludes. "Thanks Erika and the Ralph's Transmission crew for a job well done. Oh did I mention that they back their work with a 3 year or 100,000 mile warranty? They also paid for an Uber driver to pick me up at home and take me to Ralph's to pick up my car."
Thank you, Skip, for putting your faith in Ralph's Transmission and we're glad your Toyota is running like new again!
For all your Central Valley transmission repair and maintenance needs, call Ralph's Transmission today at 209.526.1909 or schedule your service appointment online.